The check-in (mining) process
Enjoy the benefits of mining without impacting your phone's performance or battery life with Ice.
To start earning Ice, you need to check-in every 24 hours by tapping the Ice logo button to begin your daily check-in (mining) session. You will earn the current mining rate/hour for the next 24 hours.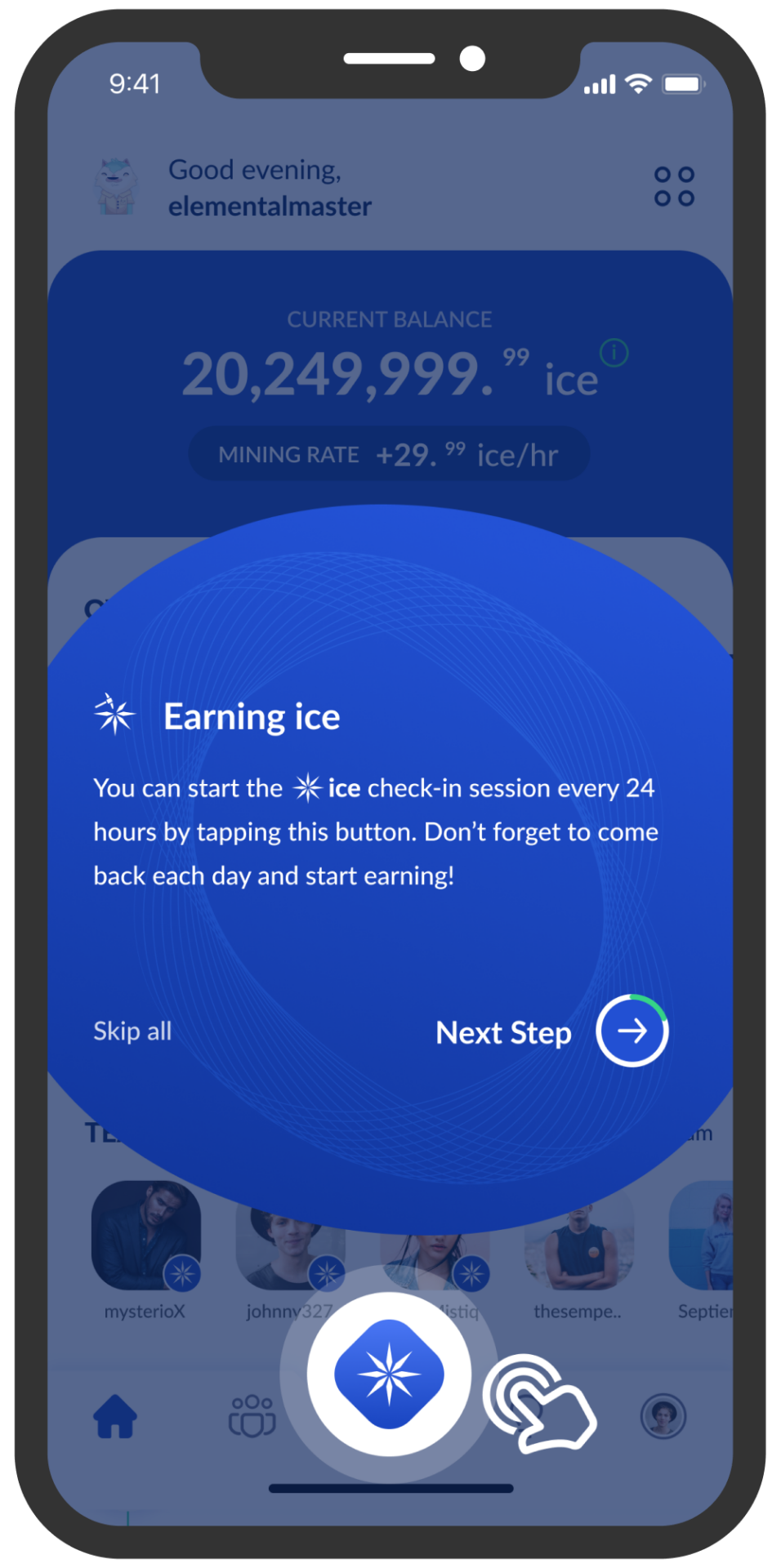 Wonderful!
But it's not enough!
Get your team to work!
When you and your friends mine together, you'll both earn a bonus of 25% on your base mining rate.
Let's say the mining rate is 16 Ice/hour. If you mine simultaneously with a friend you invited, your mining rate will be 16 Ice (mining rate) + 4 Ice (25% bonus) = 20 Ice/hour. Same for your friend!
Amazing!
But that's not all!
What happens if the 5 friends you invited are mining at the same time as you?
You will earn 16 Ice + (5 friends x 4 Ice) = 36 Ice/hour without consuming any of your phone's resources!
This is the power of the ice network and the reward for the trust you and your friends have in each other!
The friends you invited are Tier 1 for you and the friends they invited are Tier 2 for you!
This is your network!
This is your micro-community!
In the Ice community, the saying "friends of my friends are my friends" holds true, and you will be rewarded for the activity of your Tier 2 connections. Grow your network and earn even more rewards with Ice.
In addition to all of the above, you will also receive a bonus of 5% of the base mining rate for each friend of a friend invited by you (Tier 2) who is mining simultaneously with you!
Think about the fact that every friend you invite will likely invite 5 or more friends!
Maybe all 25 friends invited by your friends will mine at the same time as you. This means that for each Tier 2 friend, you will receive a 5% mining rate bonus.

If we go with the example above of a 16 Ice/hour mining rate, it means that for each Tier 2 user in your network, you will receive a mining rate bonus of 0.8 Ice/hour.

And if there will be 25 Tier 2 users in your network, you will get another 0.8 x 25 = 20 Ice/hour.
Amazing! Let's recap!
If you invite five friends who in turn invite five friends and you all mine at the same time, then you will mine at a mining rate of 16 Ice (mining rate) + 5 Tier 1 (friends) x 4 Ice + 25 Tier 2 (friends) x 0.8 Ice = 56 Ice/hour!

The only resource is time: 30 seconds a day (half a minute out of the 1,440 minutes of a day) to tap the Ice button and remind your friends to do the same!
Tap the Ice logo button and start your first 24h check-in (mining) session.
Extra Bonus
In addition to referral mining bonuses, Ice offers additional bonuses based on user activity. Learn more about these bonuses and how to earn them on our bonuses page.
Tap in advance
Sometimes it can be challenging to tap exactly when the 24-hour mining period is over.
Here is the good news!
You can tap and hold for 1 second the Ice logo button after the first 12 hours of opening the current check-in (mining) session. This way, you will open a new 24-hour check-in (mining) session, and you are sure to continue mining by avoiding any interruptions.
At the end of the current check-in (mining) session, if you didn't tap to start a new check-in (mining) session and you have a Day Off in your account, then the Day Off will be activated automatically so you won't lose the streak.
Find out what is Day Off.